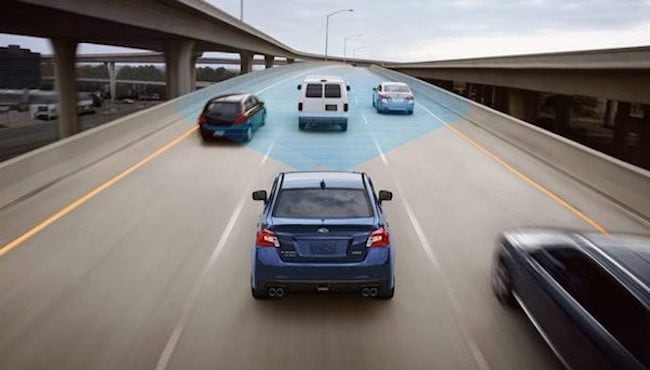 It isn't just the entertainment system in your car that has gotten smarter: New vehicles, and new Subarus in particular, are made with a whole host of intelligent tech tools meant to keep you safe on the Mendham area roadways.
Subaru's suite of driver assistance tools is called Subaru EyeSight, and it's clever, powerful, and available on most of the new Subaru models for sale here at Subaru of Morristown.
What Does Subaru EyeSight Offer?
Subaru EyeSight uses a series of cameras and sensors to identify road obstacles and markings to keep you alert and safe on your way. Here are the main tools available in vehicles equipped with Subaru EyeSight:
Lane Keep Assist and Sway Warning
Subaru EyeSight can detect road markings, allowing it to determine whether you're car is maintaining its lane. If the car begins to wander outside of its intended lane without a turn signal, or if the car begins to sway, Lane Keep Assist will alert you with visual and audible warnings.
EyeSight Adaptive Cruise Control
Adaptive Cruise Control takes the convenience of cruise control and makes it even better. You set your speed and the car will maintain that pace–up until it encounters a vehicle ahead of it, at which point it will slow down and maintain a safe following distance. If the car ahead speeds up, your car will return to its set speed. It's useful for both highway driving and stop-and-go traffic, saving your leg from driving fatigue.
Pre-Collision Braking
If EyeSight recognizes an impending collision in front of the vehicle and the driver has not applied the brakes with enough force to stop, Pre-Collision Braking will kick in to help drivers avoid or reduce the impact with alerts and apply full braking power for them.
Pre-Collision Throttle Management
Pre-collision Throttle Management can help avoid collisions or reduce damages by halting the throttle when it detects an obstacle in front of the vehicle while the driver continues to accelerate. It can prevent against distracted driving collisions, or parking lot and garage mishaps 'Drive' is accidentally selected when you really want 'Reverse.'
Subaru Vehicles Equipped with EyeSight
This great driver assistance technology is standard on most of the models in the current Subaru lineup: the Impreza, Crosstrek, WRX, Forester, Outback, Legacy, and Ascent. Check out our great selection of new Subaru models at Subaru of Morristown, and visit us to test drive one for yourself today!